Book an Eclectic Villas property at least 6 months in advance and we'll give you 15% off the best available rate! Valid for all stay dates except the Christmas / New Year peak season.
Book direct on the Eclectic Villas website and you'll enjoy FREE return airport transfers in the comfort of one our private vehicles.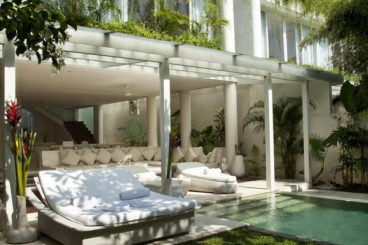 Traveling with a large group? Wanting to explore the majestic island of Bali then return for sunset drinks overlooking the ocean? Then look no further than this spacious 5 bedroom villa located just 200m from Seminyak beach!
We combine our international expertise with local knowledge to provide you with a truly unique Bali holiday experience!
Eclectic Villas is operated by Australian and local professionals with more than 20 years combined international hospitality management experience.
When you book an Eclectic Villa you can be assured that your stay with us will be a truly memorable one – for all the right reasons!
In addition to providing you with a great selection of quality Bali villas, we also offer a professional tour and activities booking service.
We've experienced many of the Bali tours first hand and are more than happy to provide you with our personal recommendations based on your personal interests.
Contact us today to find out more!